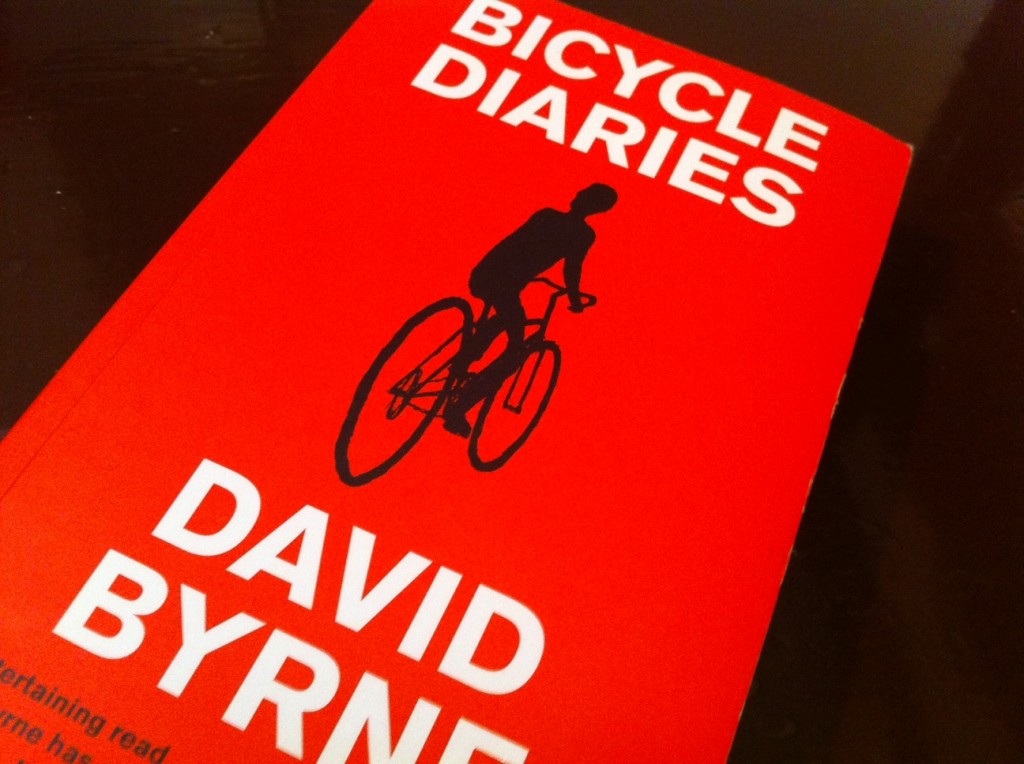 I got two books for Christmas. One was about the art of flirting, and it was from my mother. Needless to say, any other book would make me happier. The other book wasn't just any other, though. It was Bicycle Diaries. Artist and musician David Byrne (from Talking Heads) writes about his love for biking, and how his folding bike has become his favorite way to get around in new cities all over the world.
This point of view–faster than a walk, slower than a train, often slightly higher than a person–became my panoramic window on much of the world over the last thirty years–and it still is.
His descriptions and perspectives on architecture, urban design, politics, culture and art in the cities he visits are all a true joy to read.
Our values and hopes are sometimes awfully embarrassingly easy to read. [...] "This is what we think matters, this is how we live and how we play." Riding a bike through all this is like navigating the collective neural pathways of some vast global mind.
As a European who was new to the US a couple of years ago, and still haven't been traveling that much around in this country, it disturbs me to read reports about all these American cities that are planned and laid out as if human beings' only way of getting around should be by car. In most cities across America it is simply way too dangerous to get from point A to B unless you are within the four walls of a moving vehicle. You actually have to get into a car to visit a different part of town, as different neighborhoods are framed in by freeways.
In most of these cities one could say that the machines have won. [...] I try to explore some of these towns–Dallas, Detroit, Phoenix, Atlanta–by bike, and it's frustrating. The various parts of town are often "connected"–if one can call it that–mainly by freeways, massive awe-inspiring concrete ribbons that usually kill the neighborhoods they pass through, and often the ones they are supposed to connect as well.
That you are forced into a car to get around is just as true for American suburbia. I remember being in some cute little NJ town with a friend of mine. We were supposed to go to the grocery store to pick up some food for the Sunday dinner.
Me: How far is it?

Him: Only 5 minutes.

Me: So let's walk then?

Him: Uhm, I meant 5 minutes by car.

Me: But if it's 5 minutes by car, it surely can't be more than like a 20 minute walk?

Him: Well, there's no way to get there on foot. We have to cross this highway, so… I wouldn't do that.
This is so frightening, upsetting and sad. Or as Byrne says, "it's long-term unsustainable and short-term lousy living." Somebody please do something! I'm unfortunately too busy getting together this Paint Your City thesis celebration of biking right now. In the meantime, I'm so grateful that NYC Department of Transportation acknowledges walkers and bikers as well as cars in their transportation plans. Thanks to DOT and Transportation Alternatives, it gets easier and easier to get around by bike. There are more bike commuters than ever, and only the recent snowfall is making my daily bike rides less likely to happen. But for a delicious Sunday brunch, I can do anything!