Twelve excited interaction design students are ready to get their game on when we launch the very first SPOKED two-week competitive game spree on Monday. Problem is that we lack a few bikes…

Tina (@tinabeans), Benjamin (@bgadbaw), Prachi (@prachipun) and Christine (@cayanna) got totally SPOKED about biking when we announced the launch. They even picked out their color to paint the city streets! Unfortunately they don't own bikes. Yet. We secretly hope that if they get the taste of the NYC bike life during our two-week game, they'll be bike-owners in no time, and SPOKED forever.
Can you help them out, so we can get as many wheels rolling as possible? Get in touch with them or us (Carrie and Kristin) if you can!
SPOKED? WHAT ARE WE TALKING ABOUT?
We honestly believe that people that ride bikes are happier. They are beautiful inside and out, because there's really no limit to what fresh air can do to a person. This is why we have created SPOKED – a service that helps you build bike cultures among your workplace and friends. Here's a snapshot of the web interface, and a tiny circle of bike friends: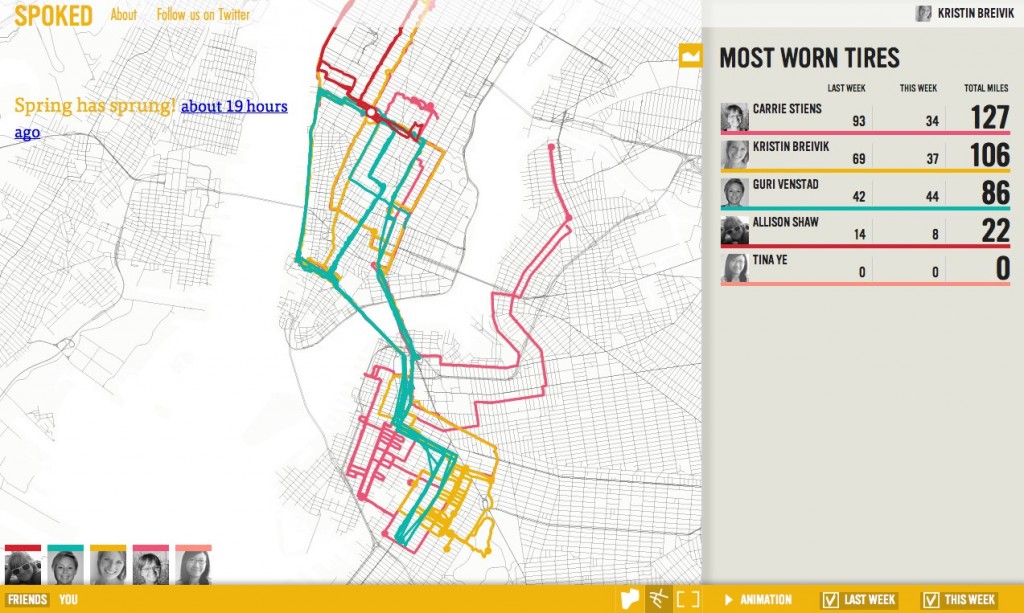 When you're playing a SPOKED game, by tracking your rides with a smart phone, you get to make snazzy patterns on a map with the color of your choice. You get to share the patterns and feel the wonderful social pressure by people around you to bike a little more than usual. You'll also get encouraged in the currency "smiles" to bike consistently, and nudged on twitter when your bike is calling for you to get on the streets. Most importantly, you get to take part of a little two week adventure that just might change your lifestyle forever!
Here's most of the SVA IxD SPOKED team just after they got their color, prepared to bike and collect the most "smiles" starting Monday (3/26):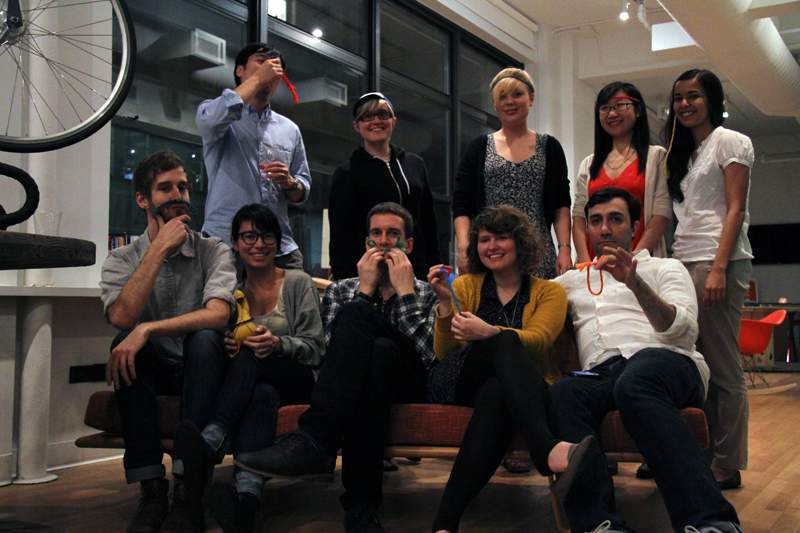 Follow us @iamspoked!