For Kristin and I, biking is not about our calories burned or carbon footprint reduction. It's simply about the joy it brings to us and that it gives us the ability to explore and know our city better. Not to mention an excuse to be outside, a workout and commute in one, and a flexible schedule. For thesis, we want to spread the joy of biking that we experience to more people.
The King of Two Wheels was our first trial run of a bike challenge hosted within a work environment. From there, we decided that we want to create a mass movement of people riding bikes. This led us to our thesis concept, Paint Your City (PYC). It's a social tracking platform where riders use their phone for tracking bike rides in the city. One's beautiful traces can be seen visualized on a map on the website, along with rides from friends, co-workers and neighbors.
Many people either fall into biking or start riding because their friends are doing it. The PYC office challenge is a two-week event that embraces social pressure to encourage biking for transportation.
JOIN THE CHALLENGE
Office workers are invited to join a challenge by Paint Your City or can be challenged by another company. To join, participants upload their photo to paintyourcity.com and choose a color to paint the city with their bike. As an office, they choose their team color to defend their honor as a company.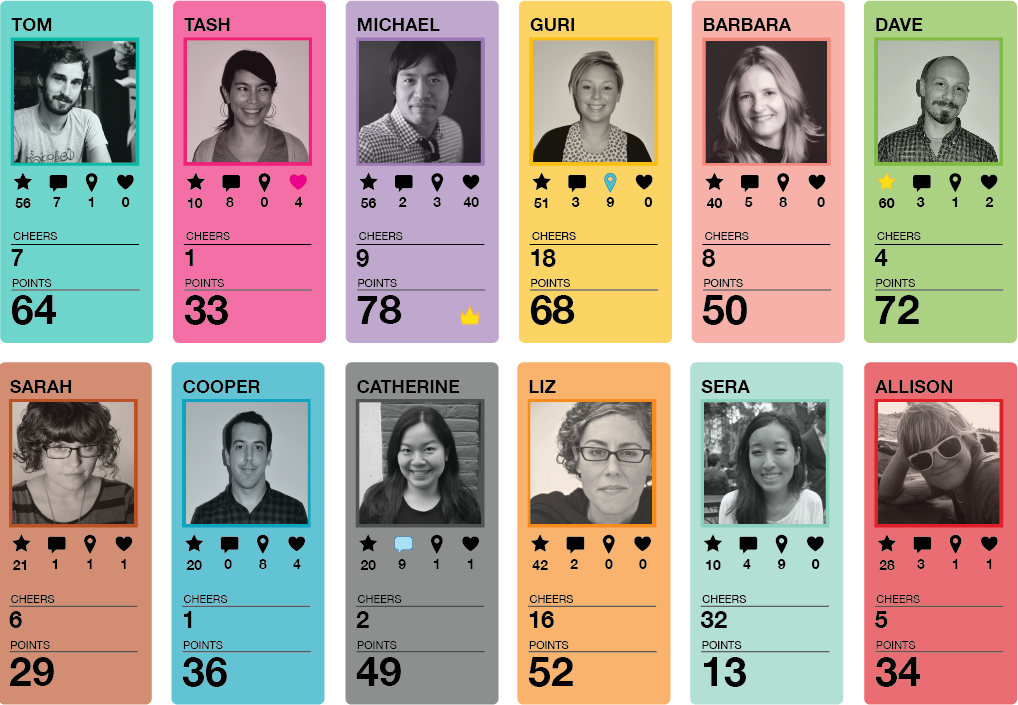 The contestants are competing against each other internally, but are also joining forces to conquer fellow companies. So, they can either challenge other companies or be set up against competitors by Paint Your City. At the large scale, participants can see how their company measures up against all other companies in their city involved in the challenge at that given time.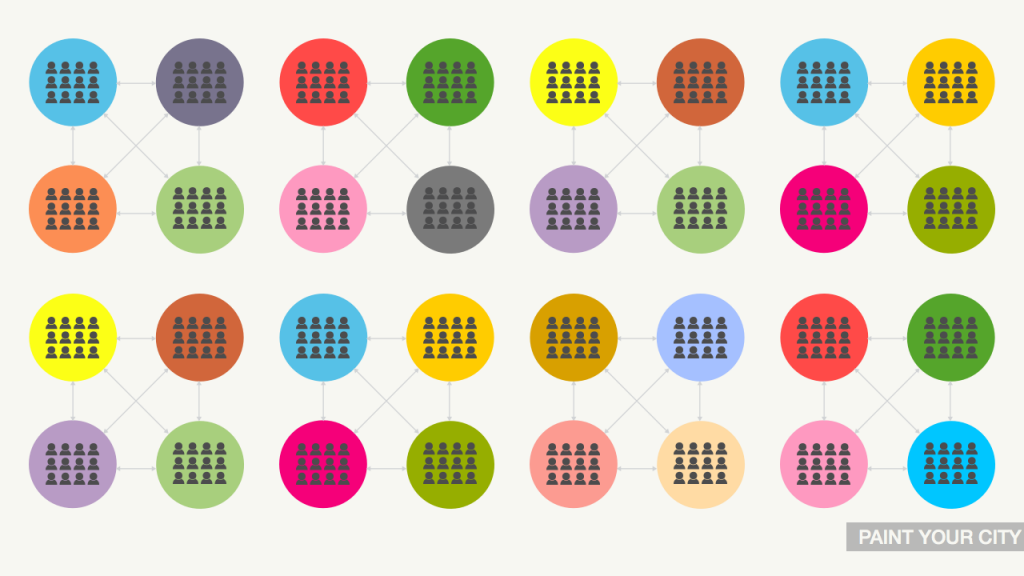 GET AHEAD IN THE GAME
This is no regular competition, though. It is about riding your bike, but also getting to know your city and encouraging other people to start biking. There are four ways to get ahead in the game.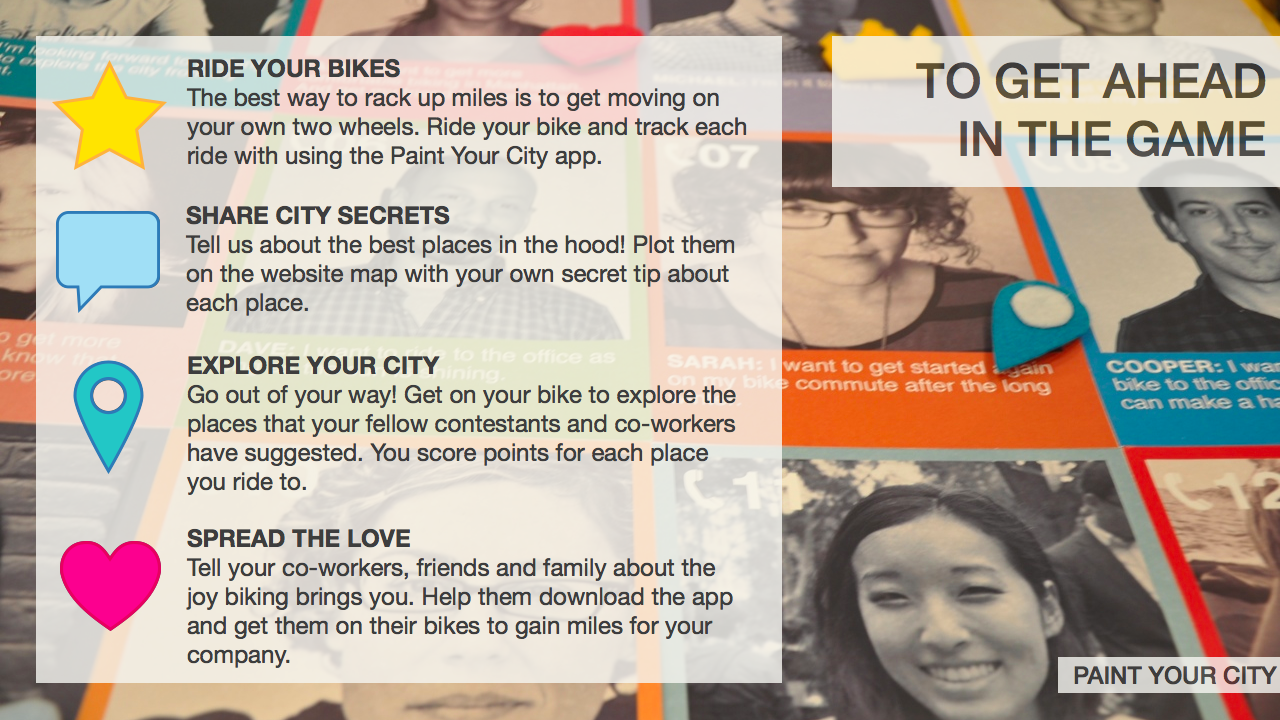 (1) Obviously it's about riding your bike a lot. (2) It's also about recommending and giving tips about great places in the city—places that you might discover on your bike rides. (3) It's about exploring the city and trying the places out that are recommended by your colleagues.(4) And, it's about getting new people to download the app and tracking their rides. Recruiting bikers will also be a way to get ahead for the contestants.
These four ways to get ahead in the game are also the four ways that contestants are honored for their achievements—ride, share, explore and recruit. But the rest of the office can also get involved!
Office mates can get recruited to ride and share city secrets. In addition, they can cheer for the bikers they love. They can do this through their own phone or with a phone provided in a game kit. Twitter and Facebook will help the riders connect and push each other.
During the exciting and intense challenge weeks, other people's bike habits will interest contestants more than before. They can easily find out if and when their co-workers and opponents got on their bike seats this morning, and let that inform their own decision about whether to bike or not. Their rides will be broadcasted the moment they get on their bikes!
Contestants will be competing against people they don't know. We want to embrace that and enable them to talk to each other through social media.
Of course we will utilize social media both to get more people to bike and to get more support and cheers for the bikers in the competition.
Because we want to facilitate water-cooler conversations around biking in the workplace, companies can choose between game kits to heighten the challenge experience.
At the very basic level, offices can use the app, website and have access to a visual display of the bike rides that can be projected on the wall.
In the premium kit, contestants will get helmet stickers to broadcast to the world that they are painting the city. Companies will also get a contestant poster that honors the bikers and aids cheering. Cheering can be done by through a mobile phone or through the preprogrammed rotary phone provided. At the end of of the challenge, all contestants that are part of the premium kit will be gifted a poster of their achievements. We believe that this artifact will continue to promote the bike culture within the workplace beyond the challenge. A book of game rules will also accompany this kit.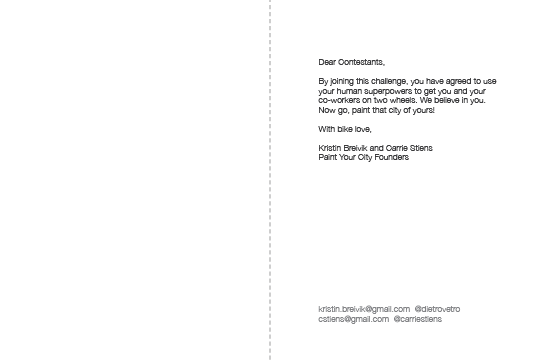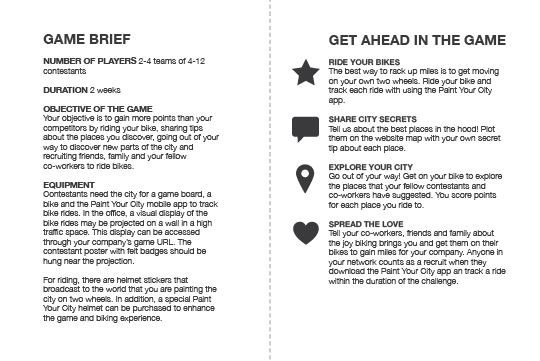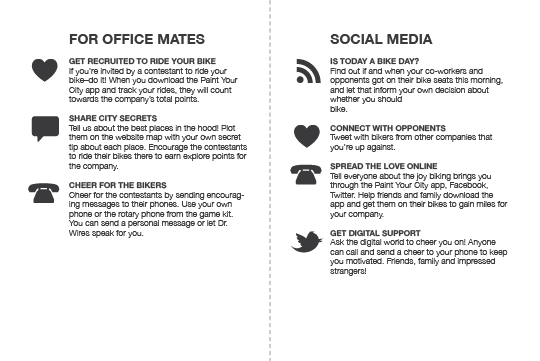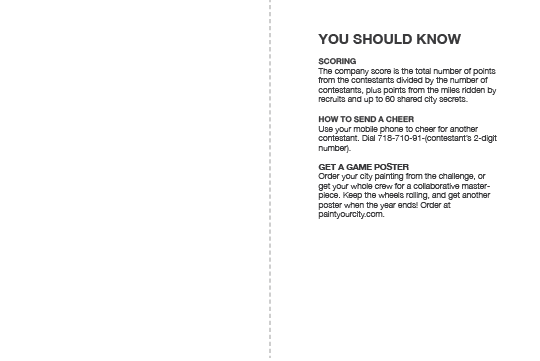 VISUAL DISPLAY OF BIKE RIDES